Frederic Bell (1812-1860)
Wednesday, 21 October 2009 00:00 | Written by Nigel Hillen
| | | |
| --- | --- | --- |
| | | According to my grandfather (Alan Robinson Hillen) and his siblings, their father (James Thomas Hillen) was the illegitimate child of Emma Smyth and one 'Dr Bell'. |
1. Introduction
Great-grandfather - James Thomas Hillen - was the illegimate son fof Emma Smyth and - according to family tradition - one 'Dr Bell'.
Emma Smyth was a domestic servant from Friston in Suffolk and we have established that a Fredferic Bell was the local GP at Aldeburgh at the time of James's birth, just four miles down the road from Emma. According to the family grapevine, expensive gifts were sent to James, engraved 'To my darling boy'.
Simon and I have been unable to establish a link between Emma and Frederic, but in the course of our research we have managed to unearth quite a bit of information about Dr Bell. I am posting this information on the Internet in the hope that a living descendant of Frederic's brother Danderson Coates Bell (to the best of our knowledge, Frederic and his other two siblings, Edward and Charlotte died childless) will find it and get in touch. Hopefully, they will have documentary evidence to show that Frederic was indeed the father of James Thomas Smyth (later Hillen). Failing that, and if they are willing, perhaps we could go the whole nine yards and get a DNA test (at our expense of course).
2. Personal data
Name: Frederic (aka Frederick) Bell
Date of birth: 1812 (although his gravestone in Great Malvern gives a date of 1818)
Place of birth: Tilney St Lawrence, Norfolk, England
Date christened: 29 December 1812, at Terrington St Johns, Norfolk, England
Father: William Bell
Mother: Sarah Coates
Siblings: Danderson, Charlotte, Edward,
Spouse: None, suspected relationship with Emma Smith, based on Hillen family rumour
Children: James Thomas Hillen? (christened James Thomas Smyth, aka James Thomas in the 1851 census)
Lived at: Terrington St. John, London, Aldeborough
Date of death: Sunday 15th July 1860.
Place of death: Tudor House, Malvern.
3. Christening
Located at the Mormon site:


4. Confirmation
"Names of Persons to be confirmed by the Bishop of Chichester for the Bishop of Norwich on Tuesday the 29th day of May 1827."
Amrose GOODE Vicar
names, age
Elizabeth ACRES, 17
Sarah ACRES, -
Sarah BATES, 16
Maria BATTERHAM, -
Mary BAXTER, 16
Edward BELL, 18
Frederick BELL, -
Elizth BOND, 20
James BRADFIELD, 15
Thomas BRADFIELD, 18
Thomas BRETT, 13½
http://www.british-genealogy.com/forums/showthread.php?t=8051
5. Career
5.1. Graduation from Apothecaries' Hall in 1835
http://books.google.com/books?id=xv8NG1SED54C&pg=PA608&lpg=PA608&dq=%22Frederick+Bell%22+%22John+G%C3%B6nner+Robinson%22&source=bl&ots=GOmg-50P28&sig=niAJ6Cm6lRdlImU_J_aCVYFTn7c&hl=nl&ei=nFJySsrJJpWKmwPs2Y2SDA&sa=X&oi=book_result&ct=result&resnum=1#v=onepage&q=%22Frederick%20Bell%22%20%22John%20G%C3%B6nner%20Robinson%22&f=false
Names of Gentlemen to whom the Court of Examiners granted Certificates of Qualification .
Thursday, November 6th:—Edward Hyde, Witney, Oxfordshire ; John Henry Bull, Lindfield, Sussex ; John Barker, Ixworth, Suffolk ; John Gönner Robinson, Colchester ; Jesse Leach, Rochdale ; Joseph Lancaster, Clifton ;
Frederick Bell, Torrington, St. John's; [mis-spelling of Terrington]
Robert Kirby, Knaresborough ; Thomas Edward Rawson, Kegworth ; William Smith, Worcester; Edward Williams, ; Frederick Palmer, Great Yarmouth ; Frederick Yate, Madely ; George Seymour Dixon, Wolsingham, Durham; John Henry Simpson, Loughborough ; Edward Tweddle Atkinson, Richmond, Yorkshire ; William Abraham Cox, Somersetshire. Thursday, November 20th :—Isaac Byer ley, Liverpool; George Varah, Sheffield; Frederick James Chappie, Stonehouse, Devon ; Charles Redwood Vachell, Cardiff ; James Berry, Bristol ; James Newton Heale, ; Jabez Carr, Birmingham ; William Jones, ; James Taylor, . • [The list of gentlemen who received diplomas from the Royal College of Surgeons, in our next.].
5.2. Surgeon at the Wickham Market workhouse in 1844
Dr Bell, also assisted with the care of the residents at the Plomesgate Union Workhouse at Wickham Market:
Comprises about 21,000 inhabitants, & 40 parishes, consisting of all the 23 parishes in Plomesgate Hundred, 16 of the 18 parishes of Loes Hundred, & Wickham Market, in Wilford Hundred. Framlingham returns 2 guardians, but each of the other parishes only 1.
....The Union is divided into 6 Registration Districts, under Mr John Dallenger, the Supt. Registrar & Clerk to the Board of Guardians. Mr John & Mrs Susan Moore are master & matron of the Workhouse, & the Rev William B Bransby is the chaplain. The other principal officers are Richard Wigg & John Garrod, relieving officers; Messrs William Muriel, William Jeaffreson, Edward Gross, Robert Freeman, Samuel Randall & Frederick Bell, surgeons; Francis W Ellis, auditor. Source: White 1844 - P154 Submitted by Betty Longbottom.
http://www.institutions.org.uk/workhouses/england/suffolk/Plomesgate_workhouse.htm
"The Union Workhouse is at Wickham Market, & was erected in 1836/7, at the cost of about £7000. It is handsomely built of brick, in the Elizabethan style, & has room for 370 inmates, & had as many as 278 in Jan 1843, though it had only 100 in July, 1841.
These are maintained at the weekly cost per head of 1s.10+d for food, & 7d for clothing. The total sum expended for the relief of the in & out-door poor, during the first quarter of 1843, was £2595.12s.1d"
http://www.workhouses.org.uk/index.html?Plomesgate/Plomesgate.shtml
© Peter Higginbotham.
It is on Chapel Lane, Wickham Market
The Infirmary of Plomesgate Union workhouse, where Dr Frederic Bell worked as one of the attendant surgeons, in addition to his practice in Aldeburgh.
5.3. Reference to Dr Bell's professional work
Correspondence and papers of J Y Simpson concerning the administration of ether (1847) and the discovery and early use of chloroform:
53: 1947, January 28th: extract from a letter to the editor of the Ipswich Journal from Henry Freeman MRCS, regarding the successful use of ether during operations carried out by Mr Bell, surgeon of Aldeburgh.
http://www.suffolkmedicalbiographies.co.uk/Profile.asp?Key=363
Charles Pope James: October 1857 As assistant to Mr Bell at Aldeburgh attended man who collapsed and died.
And here is another link between Frederick Bell and the Garrett family:
http://www.suffolkmedicalbiographies.co.uk/Profile.asp?Key=2557
John Jessup Sewell: Nov. 1841: Did an amputation through the shoulder joint on a patient injured at Garrett's Factory at Leiston - assisted by Mr Bell.
London Medical and Surgical Journal
6. Census data on Dr Bell
1841 Census:
Aldeburgh, 1841 census, fiche 569 - page 31:
Bell, Frederic - aged 30, surgeon. Address: High Street, Aldeburgh ... entry showed that he was born in Suffolk, which is incorrect (on later occasions he gave his place of birth as Tilney St Lawrence, Norfolk).
Other members of the household:
Elizabeth Pettit - aged 41, female servant, also listed as born in Suffolk.
Abigail Alwood - aged 10, maidservant (? poor quality fiche, barely legible), also listed as born in Suffolk.
Interestingly (in terms of a possible liason with Emma Smith of Friston), the next door neighbour is listed as William Smith, aged 55, carpenter (wife Mary Smith, aged 55, daughter Jane Smith, aged 25). At the time of this census, our Emma Smith would have been aged 15 or 16.
1851 Census:
Aldeburgh, 1851 census, fiche 546
Frederic Bell, gives place of birth as Tilney St Lawrence in Norfolk - address Mount Street (or Front Street?)
7. Newspaper report of Dr Bell's death
From the Malvern Advertiser dated 21st July 1860: 'SUICIDE - The distressing event which occured either on Saturday night or Sunday morning at Tudor House, has, of course, been a matter for the Coroner, the inquest was held at the Belle Vue Hotel, on Monday, by Mr W.P. Hughes, deputy coroner. The deceased gentleman, Mr F. Bell, had been in practice as a surgeon at Aldborough, Suffolk, for upwards of twenty years, being beloved and respected by all who knew him, and in addition to his extensive practice having employed himself in promoting the welfare of the working classes. To an over worked brain may be traced the event we are recording. Dr Bell had only been in Malvern a few days, and was already, to all appearnace, deriving benefit from the treatment adopted, and on the day previous to his death this was the more evident, he himself expressing the improvement felt. The deceased gentleman was attended to bed by his bathman, and left in all appearance in a tranquil state, but upon entering his room in the morning he was found stretched on the floor with his throat cut. Dr Badgeley, the resident physician, was immediately in attendance, but life was quite extinct. At the inquest, Dr Badgeley was examined at considerable length, his opinion was that the very irritable state of the patient's stomach had so affected his brain as to be the cause of the unhappy act. The jury returned a verdict that the deceased cut his throat while in a state of unsound mind.'
Many thanks to The Revd. Nigel Hartley, Vicar of Aldeburgh, Rural Dean of Saxmundham for obtaining this information in the course of a visit to Great Malvern.

Rev. Hartley reports that: The transcription on his gravestone (in consecrated ground) in Malvern Priory Churchyard gives the date of his death as 15th July 1861 but this is wrong by a year ! He died on Sunday 15th July 1860. The Malvern Advertiser is a weekly published on a Saturday and also lists all visitors to the area and where they are staying.
7.1. Photographs of Tudor House
Now known as Tudor Hotel. Sadly it is a very poor state of repair. Details of the current state of the property, plus some interior photographs can be seen here:
http://www.historicenvironment.co.uk/downloads/TudorHotel.pdf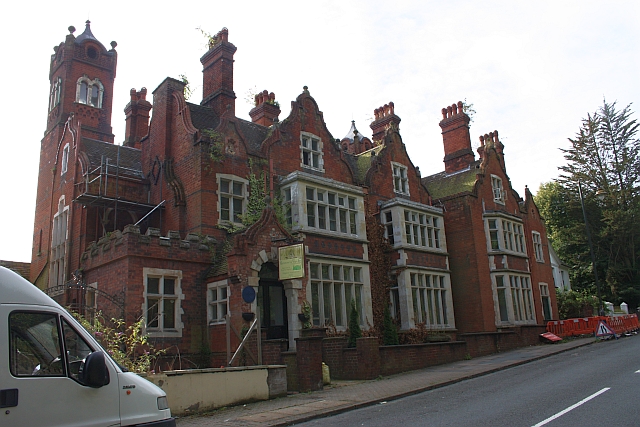 One of the pioneers of the "Water Cure", Dr James Manby Gully took over the Tudor Hotel and Hornyold House as his establishment.
Apparently known as the St Moritz of England, Malvern became a popular spa town when Drs Wilson and Gully established hydrotherapy centres in the 1840s for people taking the water cure.
Gully built Tudor House and Holyrood House, which still exist today, joined by a Bridge of Sighs separating the men's and women's quarters.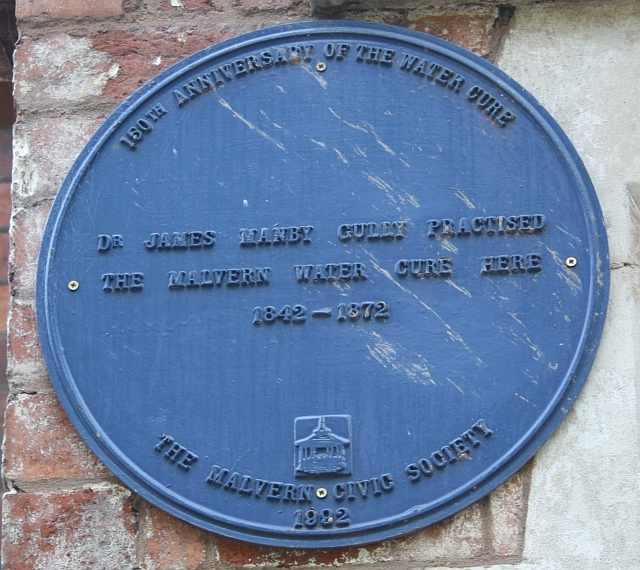 Patients could enjoy such invigorating treatments as cold baths and showers or being wrapped in a wet sheet. They were then encouraged to walk or be carried by donkey up to the hills.
Charles Darwin was among the famous people who were successfully treated, but his 11-year-old daughter was not so fortunate. She died in Malvern and is buried in the Priory graveyard (where Frederic Bell is also interred).
Here we see the Priory Church, where Frederic Bell is buried. It is within a stone's throw of the place where he died,Tudor House (red brick tower and chimneys in the forground).
8. Frederick Bell's grave
Simon and I would like to thank The Revd. Nigel Hartley, Vicar of Aldeburgh and Rural Dean of Saxmundham and his friends in Great Malvern for locating and uncovering the grave of Frederic Bell, in the churchyard of Malvern Priory. The following photographs show the grave, details of the inscription, and the location of the grave with respect to the Priory Church.
Inscription on the gravestone:
Sacred to the memory of Frederic Bell Esq. surgeon, late of Aldeburgh in the county of Suffolk. One of the beloved sons of William Bell Esq and Sarah his wife late Terrington St. John, in the county of Norfolk. Born Dec 1st 1818 [The Mormon record of Dr Bell's year of birth as 1812 would appear to be incorrect]. Died at Malvern July 15th 1861 [incorrect, the year was 1860]. Amiable, gifted, humane, gentle, affable and mild. His highest object was to lead the minds of his fellow creatures to their Saviour and their God. While attending to his professional duties with kindness and zeal. Verily there is a reward for the righteous. Promptus Sum. E.B. ('It has been brought forth' ?).
(E.B. is presumably his brother, Edward Bell)
9. Frederic Bell's Will
(unearthed by Nigel and Simon during a visit to the Ipswich PRO in 2009)

'This is the last will and testament of me, Frederic Bell, Aldeburgh, Suffolk, Surgeon. I direct that all my just debts funeral and testamentary expenses be first paid. I bequeath to my old and faithful servant Elizabeth Pettit £100, if she should be living at my decease. I bequeath to my nephew George Coates Bell MD, in Indian Army, my silver tray, my glass butter dish with silver top and stand, My ring engraved with my crest, Sundry family portraits, and all my surgical and medical books. I bequeath to my nephew, Claudius William Bell, Indian Civil Service, All other plate jewellery, china, I may possess at my decease. I direct my practice to be disposed of by my executors. I direct whatever landed house or personal property I may have to be sold which with any money or securities I may be in possession of at my decease, proceeds from these several sources to be subject to the legacy above-named to Elizabeth Pettit, if living, and all legal claims, I direct my executors to invest the residue in government securities. The interest of which to be given to my sister, Charlotte Bell now in Canada West, during her lifetime and that after her decease the principle be given to my niece Mary Jane Bell daughter of my late brother Danderson Coates Bell (formerly surgeon in the Honourable East India Company Service). Out of my personal effects, I bequeath all my books excepting medical and surgical ones to the trustees of the Aldeburgh public reading room and library for the use of the room. I hereby nominate and appoint Newson Garrett of Aldeburgh Suffolk, merchant and James Southwell of Saxmundham Suffolk, Solicitor. Executors of this my last will and testament and each of which I wish to have a mourning ring. I declare this to be my last will and testament, in witness whereof I have to this one and only sheet of paper set my hand and seal this first day of June 1859. Signed Frederic Bell, signed sealed published and declared by me the said testator Frederic Bell as and for my last will and testament in the presence of us who at his request and in his presence and in the presence of each other have hereunto subscribed our names as witnesses. Witness Charles Pope James, surgeon, Aldeburgh. Thomas Allen Hayes, surgeon, Leiston. Testator died 15th July 1860 proved 3rd of September 1860 by Newson Garrett and James Southwell+ the executors. Effects under £1500. Examined and signed by H. Chamberlain'

+ Southwell Henry & James (and clerk to the magistrates), Saxmundham
10. Tablet in the parish church at Aldeburgh
The following photograph was kindly contributed by Charles Sale of Gravestone Photographic Resource
This is the memorial erected by 'a few friends' ... 'in affectionate memory'.The text is:
Sacred to the memory of Frederic Bell Esquire, Surgeon of this place, who died suddenly at Great Malvern in Worcestershire, much respected and ever most deeply lamented, 'them which sleep in Jesus will God bring with him' "(I Thess 4:14).
'By him all that believe are justified from all things from which ye could not be justified by the law of Moses' (Acts 13:39)
'Wherefore comfort one another with these words' (1 Thessalonians 4:18)
This tablet is erected by a few friends in token of affectionate memory
Dr Bell's body was not returned to Aldburgh from Great Malvern. The National Burial index shows that he was buried in Worcestershire:


11. History of Aldeburgh parish church

The church was partially rebuilt in the 16th Century but retains a 14th Century tower. There stands a memorial bust of George Crabbe and a beautiful stained glass window depicting the three Britten parables of the Curlew River designed by John Piper. Both Benjamin Britten and Peter Pears are buried in the churchyard as is their close friend Imogen Holst as well as Elizabeth Garrett Anderson, the first woman doctor in England.
Courtesy of: http://www.visit-suffolkcoast.co.uk/out-about/and-around-aldeburgh
12. Suffolk Medical Biographies

This is the text of the above: Profile for Bell, Frederick
Information obtained from Suffolk Medical Biographies:
http://www.suffolkmedicalbiographies.co.uk/Profile.asp?Key=863
LSA (Licentiate of the Society of Apothecaries) 1834; MRCS (Member of the Royal College of Surgeons) 1834.
1839 Earliest reference at Aldeburgh. (38)
Nov 1841 Assisted Mr Sewell to amputate through shoulder joint of patient at Garretts , Leiston.(4)
28 Jan. 1847 Amputated a lower limb with a scrofulous knee joint under anaesthesia. (4)
1851 Census - In practice at Aldeburgh, unmarried, born Filing Norfolk, age 37. (12B)
Feb 1856 Attended patient who died from haemorrhage after being injured by stone throwing. (4)
Oct 1857 With Mr James attended man who collapsed and died. (4)
July 1860 After many years he 'overtaxed himself', became depressed with loss of appetite, went to Great Malvern for his health - started to improve but then committed suicide by cutting his throat. (4)
Died 14 July 1860. (4)
His sister Charlotte died at Aldeburgh 16 Oct. 1870. (4)
References
(4) Ipswich Journal or Weekly Mercury. Weekly local newspaper published from 1720-a few issues missing.
(12) Census, County of Suffolk 1841-1881, Suffolk Record Office. Microfilm.
1841- A, 1851- B, 1861-C, 1871-D.
(38) Robson, Wm, Commercial directory of the six counties forming the Norfolk Circuit.1839.Suffolk, 1-102
There is a commemorative plaque to Dr Bell in the church of St. Peter and St. Paul, at Aldeburgh.
13. Other members of Frederic Bell's family:
13.1. Thomas Bell
(Frederic's paternal great great grandfather)
Born: 1654, Approx
Marriage: Elizabeth Paine
Cattle drover who removed from Dumfriesshire to Norfolk in the late 17th century. Thomas was the third son of Bell of Albie

John Bell provided the following information 01-03-2010:

The two tombstones at Wilton were set up, presumably in the second instance by William himself, in memory of Thomas Bell, who was born in the house of Albie, Middlebie, Dumfriesshire, and of Elizabeth Paine (Scots spelling), who died with the right of a burgess of the town of Dumfries.

I have found the entries in the Wilton register for these two people (all on line), and they read as follows:
THOMAS BELL - Burial February 16th, 1714
ELIZABETH BELL, widow: From Denver - Buried 24th November, 1725.

This information was repeated on the tombstones. I have studied two large leather bound volumes on Norfolk by Blomefield, who reported these tombstones. These particular books were actually published in the 18th century. He had been told that Thomas and Elizabeth had been pedlars, but these recollections over a long period may hide the truth. It is quite likely that they would trade merchandise, gradually establishing themselves as grocers.

There is also an entry for
THOMAS BELL, son of WILLIAM BELL and ELIZABETH, baptism October 7th, 1711
ROBERT BELL, son of WILLIAM and ELIZABETH, burial 20th November, 1728

NDH: Blomefield's work on the history of Norfolk, has been published in Wikipedia:
http://en.wikisource.org/wiki/History_of_Norfolk/Volume_2/Grimeshou#WILTON
There are two head-stones in the churchyard, the first hath a shield sab. a fess between three bells, and a hand holding a club for a crest,
1. In memory of THO. BELL, who was born in the House of Allbe, in Middleborough parish in Scotland. He died Febr. 14, 1714, aged 60.
2. In Memory of the Wife of THO. BELL, her Maiden Name ELIZ. PAIN, died a Right of Burgess of Dumfres in Scotland, Nov. 22, 1725.
At 20 Years of Age I little thought, That hither to this Place I should been brought, Therefore as in the Lord I put my Trust, I hope I shall be blest amongst the Just.

Thomas married Elizabeth Paine. (Elizabeth Paine was buried 24th November, 1725.)
13.2. William Bell
(Frederic's paternal great grandfather)
Born: 1720, Approx [this must be incorrect, as his 'father' - Thomas Bell - died in 1714. This William must have been the grandson of Thomas Bell of Albie. Son of William, Thomas's son]
Testament of WILLIAM BELL of APPLETON, Farmer - He wrote: "I have hereunto set my hand and seal this said 9th day of January, 1747
Proved in the parish of West Newton on May 12th, 1748, by the executor mentioned in the will (THOMAS BELL, the testator's eldest son).
West Newton lies between Appleton and Sandringham.

WILLIAM BELL of APPLETON, while leaving his sons and daughters and in laws 5/- apiece, makes this stipulation:
"And it is my Will that they or any of them shall not have or receive any other sum of money or advantage from my effects or other Estate whatsoever." They are to receive the 5/- apiece on the day of his burial. William married Elizabeth.
13.3. Thomas Bell
(Frederic's paternal great uncle, William's brother)
Born: Approx
Christened: October 7th, 1711
Inherited all of his father William's stock, and the rest of the lease of the farm, together with all the household goods and personal estate whatsoever.
William entrusts the care of his daughter, ANN BELL, to Thomas his eldest son, and to the testator's wife (*name seemingly not given). Thomas is to "provide for and assist in the world as her merit and behaviour shall deserve"
William also leaves to his son, Thomas Bell, all his copyhold messuage or tenement at Hatcham, for himself and his heirs for ever.
13.4. Christopher Bell
(Frederic's paternal grandfather)
Norfolk Record Office online catalogue
http://nrocat.norfolk.gov.uk/DServe/dserve.exe?dsqServer=128.60.0.31&dsqIni=Dserve.ini&dsqApp=Archive&dsqDb=Catalog&dsqCmd=Show.tcl&dsqSearch=(RefNo=='C/S/4/2/187')
Award: 1760. Map: Litcham Commons, nd, 1 inch: 6 chains, 53 by 55. Award: 1770. Surveyor: Christopher Bell of Snettisham.
The Black Swan, Snettisham, Norfolk:
Mentioned in a lease dated 24th June 1774 between Christopher & Sarah Bell and Robert Mason of Kings Lynn.
http://www.durtnall.org.uk/DEEDS/Norfolk%201-100.htm
This deed, dated 1790, shows that William (the father of Frederick) was the son of Sarah and Christopher Bell Snettisham:
GEORGE III VELLUM INDENTURE FOR COTTAGES IN SNETTISHAM, KINGS LYNN, NORFOLK – 1790. INDENTURE (LEASE & RELEASE) MADE 9TH AUGUST 1790 BETWEEN FRANCES COOPER, WIDOW, JOHN COOPER, AND MATHEW COOPER, IRONMONGER, ALL OF KINGS LYNN (EXECUTORS TO THE LAST WILL AND TESTEMENT OF MATHEW GARY COOPER, DECEASED), SARAH BELL OF SNETTISHAM, WIDOW (EXECUTOR OF THE LAST WILL AND TESTEMENT OF CHRISTOPHER BELL, DECEASED, LAND SURVEYOR) AND WILLIAM BELL OF TERRINGTON ST JOHN, SURGEON AND APOTHECARY (ELDEST SON AND HEIR OF CHRISTOPHER BELL), OF THE ONE PART AND HENRY PARTRIDGE OF KINGS LYNN, ESQUIRE OF THE OTHER PART. This one page indenture records the sale by lease & release of a property lately built in Snettisham, Norfolk, and being occupied at the time by William Athrow, baker, and giles Bolle, blacksmith. A neatly written indenture with 5 signatures and red wax seals. Handwritten on vellum. Revenue and tax stamps. Signature and seals. 42 by 63 cm
13.5. William Bell
Frederic's father was also a surgeon and apothecary, so Frederick was following in the family tradition.
He was President of the Norfolk and Norwich Benevolent Medical Society in 1816:
1816 Bell, Terrington St. John's
http://www.nnbms.org.uk/history/appendix2.htm
Sarah Bell (nee Coates)
1841 census, Frederic's mother, aged 60 (lady of independent means) and Charlotte Bell, his sister, aged 38 (unclear, but her age at death in 1870 is recorded as 66, which would give her date of birth as 1803 or 1804). She would have been ten years older than Frederick. Here, in 1841, their address is given as Church Road, Terrington Saint Johns.
New information provided by John Bell (in February 2010) indicated that William Bell married Sarah Coates at Tilney St Lawrence, Norfolk, on the 7th March, 1790. So Sarah must have been at least 20 at the time, giving a date of birth of 1770. This means that she was 71 at the 1841 census, not 60 as listed.
New information provided by a  personal visit, by Nigel Hillen, to the Church of St John, at Terrington St Johns, in April 2011 shows that Sarah was in fact 73 in 1841, so she was born in 1768. This information is contained in a memorial plaque mounted on a wall to the left of the altar. Sarah would have been 25 when Danderson Coates Bell was born:
Sacred to the memory of William Bell Esq.
for 40 years resident surgeon in this village, who departed this life on the 7th of June 1828, aged 64. His remains are interred in the burial ground of St John's Wood Marylebone.
Also to record the decease of Sarah his wife on the 15th of February 1842: aged 74.
The dust shall return to the Earth as it was and the spirit unto the god who gave it. Eccles. Chapt XII. Verse VII.
For as in Adam all die even so in Christ shall all be made alive. 1st Corinthians Chap.XV. Verse XXII.
This monument was erected as a token of filial affection by
Danderson Coates Bell., Esq.
Their Eldest Son, Superintending Surgeon.
Hon. E.I. Company's Service
Bombay Army.

An extract from the 1851 census in the area of Church End, Terrington. Sarah appears to have passed away, as Charlotte is now living with Frederick's elder brother.
13.6. Augustine Bell
Born 1765, Will PCC Exeter 134 - He was Surgeon's Mate, serving on the East Indiaman The Prince William Henry. This ship is listed at 803 tons, 5 voyages, and sailing between 1787 and 1800. He mentions Sarah Bell, his mother, and Sarah Bell his sister, in his *Will, and leaves all wages due to him from the Hon.The East India Company, to them, and if they should die, then to his brother Christopher. There is no mention of his elder brother, William Bell, and this may be the cause of the mistaken genealogy I have mentioned above.
*His Will: Signed and sealed 23rd March, 1795, and proved in the Prerogative Court of Canterbury, London, in 1797.
13.7. Christopher Bell
Christened 8th September, 1769, at Snettisham, Norfolk. He married Mary Ann Balding, and they had issue.
13.8. Sarah Bell
Married DANDISON COATES on the 3rd July, 1799, at Snettisham. In the Will of Dandison Coates (Ref: PCC Prob 11/2038), he is of Salisbury Square in the parish of St Bride's, City of London. To his dear wife BARBARA he leaves the use of all his household furniture, plate and china for life, and after her death, these items are to go to his daughter, Mary Coates.
Probate, 10th July, 1846. There seems to be the certainty that Sarah Bell died, and that Dandison Coates remarried. The name of Dandison Coates appears in relation to the anti slave trade association, as does that of a Frederic Bell.
Here is another reference to Danderson Coates: Lease for 21 years from Elizabeth Jackson spinster to William Kirk of 106a. part pasture part arable in Highmore Ditchfield in Tilney St. Lawrence, 1774, with note of assignment in 1777 to Danderson Coates.
1774, 1777
13.8.1. Edward Bell.
(Frederic's elder brother)
He does not appear to be married, his sister was living there as a housekeeper and they had a general servant. The ages appear to be incorrect as Charlotte was born in 1803/4, so she should have been 48/49 at the time of this census, not 42. Also, according to the christening record, Edward was 18 in 1827, so he would have been born in 1809, which would have made him 42 years of age in 1851, not 40.
http://www.norfolkpubs.co.uk/norfolks/snettisham/snettbsw.htm
13.8.2. Charlotte Bell
Recorded as living with her mother in Terrington St John during the 1840 census. During the 1851 census, she was recorded as living with her farming brother Edward, as a housekeeper. At some stage, she must have moved to Aldeburgh to live with her younger brother, Frederic as, in the 1861 census, shortly after his death at Great Malvern, she was recorded as a guest in the house of Newson Garrett, a friend of Frederic's (probably helped to get memorial tablet placed in the St Peter and St Paul church at Aldeburgh, and was cited as a executor in Frederic Bell's will). In that same will, drafted in 1859, Frederic mentions that Charlotte was in 'Canada West'. In the Suffolk Medical dbase, it is recorded that she died in 1870, at Aldeburgh.
In his last will and testament, Frederic Bell refers to a hitherto unknown brother, Danderson Coates Bell
13.8.3. Danderson Coates Bell
Date of birth: 23 March 1793 (Information obtained from Dixon's Medals site: Scinde Campaign Medal 1843 Hyderabad Reverse, engraved naming. Original steel clip and bar suspension, slight braising repair to steel bar.. Supervising Surgeon D.C. Bell). The same information is given by another medals company: http://www.dnw.co.uk/medals/auctionarchive/viewspecialcollections/itemdetail.lasso?itemid=54066
Place of birth: unknown, somewhere in Norfolk?
Date christened:
Father: William Bell
Mother: Sarah (nee Coates) ... problem here, according to the 1841 census Sarah was 60, which means that she was born no earlier than 1780. That would make her 13 when Danderson was born.
Summer 2011: Discovered a plaque put up by Danderson in the church at Terrington St. Johns. It stated that Sarah died on 15th Feb 1842, aged 74. Which means that she was born in 1768, which in turn means that she was 25 when Danderson was born. At the 1841 census her age was given as 60 when in fact it was 73!
Siblings: Frederic Bell, Edward Bell, Charlotte Bell
Date married: 08 NOV 1822 Bombay, Maharashtra, India
Married name(s)
Spouse: Jane (nee Smyttan) (see 'Other details' for possible father)
Address in Edinburgh: 7 Darnaway Street (see photo below):
danderson Coates Bell (continued):
Date of death: 25 August 1854 (recorded in the BMJ: Bell, danderson C., late Inspector-General of Hospitals, H.E.I.C.S., Bombay, at 7 Darnaway Street, Edinburgh, aged 61, on August 25th:
http://www.bmj.com/cgi/issue_pdf/advertising_pdf/s3-2/88.pdf

Place of death: 7 Darnway Street, Edinburgh
He became a M.R.C.S. in 1815 and was appointed an Assistant Surgeon in the Indian Service on 15 May 1816 (on which date he was recorded as being in Bagdad: LINK), a Surgeon on 22 July 1823 and Supervising Surgeon on 15 January 1840. Serving in the Scinde War 1843, he was present at the battles of Dabba and Hyderabad.
This is the medal that he was awarded at that time:
Appointed Inspector-General of Hospitals on 1 May 1843, he retired on 1 January 1844 and died at 7 Darnway Street, Edinburgh (LINK1; LINK2) on 25 August 1854.
Obituary of possible father-in-law: SMYTTAN, George, M.D., at Canaan Park, Edinburgh, on December 25, 1863. Supporting evidence: He lived in Edinburgh (where danderson later died), he was a medical man like danderson (moved in same circles?), and one of danderson's son's was named George. Tha marriage certificate gives only the mother's initial (I) - but another source gives her name as Jane. The latter is probably correct, as one of the daughters has Jane as a middle name.
30-07-2009: Found his name on a passenger list for H.C. Ship Lady Melville, listed as danderson Bell, Assistant Surgeon. The lists were taken from the "Bombay Calendar and Register 1817" Arrivals from Europe 1816.
Original web site: http://valmayukuk.tripod.com/id38.html
Here is a reference to an article that he published while working in India:
http://www.ncbi.nlm.nih.gov/pmc/articles/PMC2489484/pdf/provmedsurgj00921-0002.pdf
Here is a reference to danderson, in the Asiatic Journal and monthly miscellany of January-April 1830, as a passenger on the H.C.S.Berwickshire, which sailed for Bombay on the 1st of March:
http://books.google.com/books?id=rCkoAAAAYAAJ&pg=RA1-PA254&lpg=RA1-PA254&dq=%22D.C.+Bell%22+surgeon+edinburgh&source=bl&ots=5aFkA9YdDp&sig=3AfVPBATxkNNLjg_O74mXHxFe1o&hl=en&ei=WZh_S6yyF9Hq-AbU09GkBw&sa=X&oi=book_result&ct=result&resnum=6&ved=0CBUQ6AEwBQ#v=onepage&q=%22D.C.%20Bell%22%20surgeon%20edinburgh&f=false
There is also a record of his involvement in a charitable cause, together with his son George:
http://www.archive.org/stream/reportameetingh00assogoog/reportameetingh00assogoog_djvu.txt
REPORT OF A MEETING EDINBURGH ORIGINAL RAGGED OR INDUSTRIAL SCHOOL ASSOCIATION,
HELD IN THE MUSIC HALL, EDINBURGH, ON FEIDAY THE 14th APRIL 1848;
WITH THE FIRST ANNUAL REPORT or TUB COMMITTEE OF MANAGEMENT, EDINBURGH:
JOHN ELDER, 139, PRINCE'S STREET; WILLIAM COLLINS, GLASGOW ; AND JAMES NISBET & CO. LONDON.
The Annual Meeting of the Edinburgh Original Bagged or Industrial School Association was held on Friday the 14th April 1848, in the Music Hall, Edinburgh. The immense hall was filled with a respectable audience, who appeared to take the liveliest interest in the proceedings. His Grace the Duke of Argyll presided on the occasion ; and on the platform we observed... James Blackadder, Esq. ... Dr George Bell....
That his Grace the Duke of Argyll, and Charles Cowan, Esq. M.P., be added to the patrons of the Association ; and that the General and Acting Committee be re-appointed for the following year, the vacancies which have occurred being filled up by the following gentlemen, viz. In the General Committee — The Rev. Dr Grant; the Rev. A. Thomson ; Alex. Earle Monteith, Esq. ; David Mylne, Esq. ; Professor More ; Rev. John Sym ; Robert Christie, Esq. ; Alexander Gordon, Esq.; and in the Acting Committee — Dr George Bell; Alexander Campbell, Esq. ; danderson C. Bell, Esq.
Children of danderson Coates Bell:
13.8.3.1. Claudius William Bell
Born in 1837, and died 10th Jan 1875 at Suez, aged 38. He was of the Hon the East India Company's Service, and ICS. He was the last cadet on the Roll of Old Haileybury College HEICS & ICS 1858-1875. He was Assistant Magistrate and Collector at Poona. He had been a student at the Edinburgh Academy (1846-1851, and lived at his father's house, 7 Darnaway Street, while he was there. In his Will, Dandison Coates Bell asks his wife to sell 7 Darnaway Street if it is too small for the family, and he suggests that she should buy something better.
THE EDINBURGH ACADEMY REGISTER A RECORD OF ALL THOSE WHO HAVE ENTERED THE SCHOOL SINCE ITS FOUNDATION IN 1824
MR. TROTTER'S CLASS, 1846-53
BELL, Claudius William, f1846-51. Cl. 1-5. b. 1837; s. of danderson C. Bell, H.E.I.C.S., 7 Darnaway Street.
13.8.3.2. Alice Coates Bell
Alice Coates Bell, the daughter of danderson, married young John Wedderburn. She, John, and their baby son, were murdered in the Indian Mutiny in 1857. (information courtesy of John Bell).
Memorials at Hissar:
"Sacred to the memory of the Europeans murdered at Hissar and Hansee.
John Wedderburn Esquire, Collector and Magistrate.
Mrs Wedderburn and infant son.
http://www.angelfire.com/mp/memorials/mutinyzx.htm
John WEDDERBURN
2nd but e. surv. s., John, b. 1825, was killed, with his wife and child, in the Indian Mutiny of 1857.
A CONTEMPORARY STORY (from an article by Balram Tandon, in the mid-1900s)
"... One of the hundreds of thousands of Englishmen who served the Raj in 19th-century India and were killed during the Sepoy mutiny in 1857, has been given the status of a "Pir" or Moslem saint, with supernatural powers.
People from the Punjab, Haryana and other very distant Indian states travel to Hissar where in the local garden stands a stone memorial to Mr. John Wedderburn, collector of the Hissar district, who with his wife and infant son was killed by mutinous Sepoys on May 29, 1857.
None of the Wedderburns were buried where the stone memorial in the garden was erected in later years by the Government to commemorate an official who served the district well and was popular.
The Wedderburns were buried in the graveyard of the East India Company which ruld India until the 1857 mutiny. It remained little more than an attraction for visitors to the town until 20 years ago.
The story goes that some years ago, an old woman from Sriganganagar village went to the local courts to help her only son fight a criminal case in which he had been falsely implicated. Fatigued by her ordeal in the court, she decided to rest by the trees surrounding the memorial.
When she woke up she looked at the stone column with the cross under steeple top arches and mistook it for the grave of a "Pir" to which India's highly superstitious people make offerings for the granting of favours.
The old woman asked for the acquittal of her son. Luckily her son was discharged and when he was released she took him to Pir John Wedderburn Sahib's Maqbara (resting place) and made generous offerings of country liquor, fruit, sweets and an ornate sheet. She also lit a small earthen and wicker lamp.
The woman then told the village how the good Pir Sahib of the Company Bagh - the East India Company garden - had blessed her son. In time the story spread and offerings at the memorial pedestal became common.
Over the years the custom of a bottle of country drink in the offerings has given way to a bottle of Indian whisky since they say that this particular Pir Sahib was British and drank only whisky, not the strong rough arak of India. They now also light candles instead of lamps since he was a Christian....."
http://pagesperso-orange.fr/euroleader/wedderburn/blackness/zapn11.htm
13.8.3.3. George Coates Bell
Date of birth: 28 May 1832
Place of birth: Bombay, Maharashtra, India
Date christened:
Father: danderson Coates Bell (surgeon in the Bombay Army)
Mother: Jane (nee SMYTTAN)
Siblings:
Date married:
Married name(s)
Spouse: HENRIETTA ELIZABETH COTES(youngest daughter of the late HENRY COTES, Esq.,, surgeon in the Bombay Medical Service) - married at Gloucester, on January 9th (1868) - Ref: British Medical Journal, January 18th, 1868, page 63. 17-02-2010: Many thanks to John Bell for this information.
Children: George Henry Bell
Lived at:
Date of death: October 1883
Place of death:
Other details: Pair: Surgeon-Major G.C. Bell, Indian Medical Service, India General Service 1854-95, one clasp, Persia (Assistt. Surgeon, Regt. of Arty.); Indian Mutiny, no clasp (Asstt. Surgean (sic), 2nd Regt. Southern Maratha H.), both with locally re-impressed naming, the second with slack suspension, edge bruising, about very fine or better (2)

Medals listed at Christie's site: Lot Description
Pair: Surgeon-Major G.C. Bell, Indian Medical Service, India General Service 1854-95, one clasp, Persia (Assistt. Surgeon, Regt. of Arty.); Indian Mutiny, no clasp (Asstt. Surgean (sic), 2nd Regt. Southern Maratha H.), both with locally re-impressed naming, the second with slack suspension, edge bruising, about very fine or better (2)
Lot Notes
Surgeon-Major George Coates Bell was born in May 1832, the son of D.C. Bell (see Lot 271), and qualified in medicine in Edinburgh in 1855, prior to his appointment as Assistant-Surgeon in the Indian Medical Service in October of the latter year. Attached to the Artillery in the Persia operations of 1856-57, he was present at the capture of Reshire and Bushire, in addition to the action of Khooshab, and afterwards witnessed further active service in the Mutiny, when he was present in the pursuit of Tantia Topi in Central India, services that resulted in a Mention in Despatches. Advanced to Surgeon in October 1867 and to Surgeon Major in July 1873, Bell retired from the Service five years later and died in October 1883. His son, George Henry, was an Officer in the Indian Army (see Lot 577).
http://www.christies.com/LotFinder/lot_details.aspx?pos=4&intObjectID=1757275&sid=
13.8.3.3.1. George Henry Bell

Date of birth: April 1869
Place of birth:
Date christened:
Father: George Coates Bell M.D.,
Mother: Henrietta Bell (nee Cotes)
Siblings: Claude Coates Bell (died 1901: http://www.christies.com/LotFinder/lot_details.aspx?intObjectID=1757174)
Date married:
Married name(s)
Spouse: Eva Mary Bell (nee Hamilton) O.B.E.
http://www.secondlifebooks.com/cgi-bin/secondlife/29346.html?id=Yp9RfWEa
http://books.google.nl/books?id=quocyNYLbLcC&pg=PA309&lpg=PA309&dq=%22Eva+Mary+Hamilton%22&source=bl&ots=VvTZG_7wxo&sig=hHa2aDlZdUxhqKgfJ2PKGiDhmuE&hl=en&ei=h-uSSpn_BMPI-Qb6pfXyDQ&sa=X&oi=book_result&ct=result&resnum=3#v=onepage&q=%22Eva%20Mary%20Hamilton%22&f=false
http://www.authorandbookinfo.com/ngcoba/be2.htm
Eva Mary BELL, nee HAMILTON (F: ? - 1959 Feb 11)
Sahiblog [f|?]
In The World Of Bewilderment [f|?]
Second Nature [f|?]
A Servant When He Reigneth [f|?]
The Mortimers [f|?]
In The Long Run [f|?]
Those Young Married People [f|?]
Jean, A Halo And Some Circles [f|?]
Safe Conduct [f|?]
The Foreigner [f|?]
Hot Water [f|?]
Comrades-In-Arms [n|?]
The Hamwood Papers Of The Ladies Of Llangollen And Caroline Hamilton [n|?]
Children: None known at this time - one possibility is: George Coates BELL, J.P. For services to local authority health services in Northern Ireland (source: SUPPLEMENT TO THE LONDON GAZETTE, 14-TH JUNE 1969). 17-02-2010: Many thanks to John Bell for this information.
Lived at:
Date of death:
Place of death: 3rd of September 1916
Other details:
Lieutenant-Colonel George Henry Bell was born in April 1869, the elder son of Surgeon Major George Coates Bell (see Lot 567), and originally commissioned into the King's Own Scottish Borderers as a 2nd Lieutenant in August 1888. Immediately seeing active service in Egypt at the Battle of Gemaizah, he was advanced to Lieutenant in December 1890 and to Captain in the Indian Army in August 1899. He subsequently witnessed further action on the North West Frontier in the Waziristan operations of 1901-02, and afterwards in Africa in the Somaliland operations of 1903-04, when he was employed as a Field Intelligence Officer and present at the action at Jidballi. Advanced to Major in August 1906, and latterly to Lieutenant-Colonel, Bell died on 3.9.1916, while attached to the 9/Bhopal Infantry. He is commemorated on the Karachi Memorial, Pakistan.
Commonwealth War Graves Commission site:
http://www.cwgc.org/search/casualty_details.aspx?casualty=1450533
Son of Dr. George Coates Bell, M.D., and Henrietta Bell (nee Cotes); husband of Eva Mary Bell (nee Hamilton) O.B.E., of South Kensington, London. Served in Egyptian Campaign (1888-9); Waziristan (1901-2); and Somaliland (19034). Also served in Egypt (1914) and France (1915).
13.8.3.3.2. Claude Coates Bell
He was presumably named after his uncle, Claudius William Bell.
QUEEN'S SOUTH AFRICA 1899-1902, five clasps, Cape Colony, Driefontein, Johannesburg, Diamond Hill, Wittebergen (Trpr. C.C. Bell, Ceylon, M.I.), (similar to the medal shown below)
He appears to have been killed in the Boer War. Further details found here:
A memorial was raised to him and the others of the Ceylon Contingent:
Ceylon Contingent Memorial This memorial was erected opposite the 'Mahamaluwa' (Esplanade) in commemoration of the services of the Ceylon Contingent in South Africa, 1900 - 1902 and unveiled by Field Marshal H. R. H. the Duke of Connaught, K. G., G. C. M. G. March 18, 1907." In memoriam - Lieut. Arthur, A. Thomas, W. Max Kelly, C. Campion, Q. M., St. Cheyne, A. S. Hopper, K. Hamilton, Claude C. Bell, N. W. Smellie. This Memorial was designed by Mrs. Thomas, wife of Edward Hector Le Marchant Thomas, a brother of Lieutenant Thomas. It represents a trooper of the Ceylon Mounted Infantry giving the signal 'enemy is in sight.' This statue was pulled down in an undergraduate protest in the 1960's and never re-instated. Now this Memorial is kept in the compound of the Military Headquarters in Kandy.
Here are the details of the action in which Claude Coates Bell was killed:
NASA Pretoria. Lord Roberts? Papers, Volume 10 ff. 121-134. (WO 105/11 T/40/22): Captain C. G. Henty, Officer Commanding Troops, Bultfontein, to Chief Staff Officer, Bloemfontein. Bultfontein, 5 October 1900. Fight at Hammones Fontein Farm near Bultfontein [Orange River Colony]. ? six mounted police under Assistant Commissioner Thomas. ? by this time Lieutenant Thomas was mortally wounded ? Lieutenant H. A. Thomas, Ceylon Mounted Infantry, Assistant Commissioner Bultfontein, killed, (shot through the heart). I much regret the loss of Lieutenant Thomas. He was deservedly popular and at his funeral all classes exhibited unfeigned grief and much sorrow has been expressed by farmers in the district on hearing of his death. NASA Pretoria. Lord Roberts? Papers Volume 10 ff. 121-134. (WO 105/11 T/40/22): Lieutenant-General T. K. Kenny, Commanding Troops to the Military Secretary. Bloemfontein, 12 October 1900. The losses on this occasion, I regret particularly that of the death of Lieutenant Thomas, Aide de Camp, a very promising officer. T. K Kenny, Lieutenant General Commanding Troops.
13.8.3.4. Mary Jane Bell
Mentioned in Frederic Bell's last will and testament.
Details of her marriage in India: HISTORICAL SKETCHES OF THE INDIA MISSIONS OF THE PRESBYTERIAN CHURCH IN THE UNITED STATES OF AMERICA,KNOWN AS THE LODIANA, THE FARRUKHABAD, AND THE KOLHAPUR MISSIONS. On the 16th of April, the Rev. J. Owen, D. D., was married at Allahabad to Mary Jane, daughter of D. C. Bell, Esq., Inspector-General of Hospitals, Bombay.
A great deal of information about her husband is available here:
http://www.archive.org/stream/storyofdedicated00moff/storyofdedicated00moff_djvu.txt
Joseph Owen, then about twenty years of age, was already marked by a maturity of purpose, which, while it made him unattractive to those who lived for pleasure,enlisted on his behalf the respect of earnest and studious men. Of stature above the medium, of staid demeanor,profoundly modest, and yet self-possessed, there was a gentle dignity in his address, which effectually defended him against offensive intrusion, and could easily become severe upon violation of its bounds, while always ready to warm into a beam of affection for a friend. He was a native of Bedford, Westchester County, New York, a son of James and Lucretia Merrit Owen, born on the 14th of June, 1814. His father, a man of highly estimable character, died while his son was yet under ten years of age.
His mother, a pious member of the Presbyterian church in Bedford, endeavored to bring up her children in the knowledge and fear of the Lord. Joseph early evinced a superior capacity for acquisition of learning, and a desire to become a minister of the Gospel.
Next three years were years of almost uninterrupted toil. Then, in the midst of frequent preaching in English and the native languages, in the church, in the bazars, in the school, and at the Melas, with much daily routine work, which eats into a man's time and energies indescribably, and occasional periods of discouraging despondency, his second edition and revision of the Old Testament Bible in Hindi, and his exposition of Isaiah, for Hindustani readers, were completed.
While thus laboring under a sense of desolateness, he formed the acquaintance of one who was to become a new light to his household, the affectionate and helpful companion of his later years. On the 16th of April, 1867, he was married to Miss Mary Jane Bell, daughter of Dr. D. C. Bell, of the Bombay Medical service, but after her father's death a resident in the family of Mr. Court, the collector of Allahabad.
Departure from India:
Dr. and Mrs. Owen spent a pleasant day in visiting the schools of the Free Church of Scotland Mission. Next day they proceeded by train to Poona, where they spent the Sabbath, and where Dr. Owen preached in
the Scottish Church.
'' And now, I am on my way home. What changes there since I left. No mother, no brothers, no sisters.
My native country has become to me a strange land. In looking back upon my career, I feel ashamed of much — very much. I love the missionary work, but alas, how little have I done. ' To Thee belongeth mercy, but to me confusion of face.'"
At Bombay they were entertained at the house of Dr. Wilson, where they met Narayan Sheshadri, and other learned Hindus. After visiting the caves and temples of Elephanta, and other objects of curiosity in and about that great Indo-Anglican city, they embarked on the steamer for Suez. On the fifth of March they came to anchor in the harbor of Aden.
The contemplated visit to Egypt, Palestine and Greece was leisurely accomplished, and recorded. The rest of the journey was now pursued with little delay, by way of Cyprus and Rhodes to Smyrna, thence, after a hasty visit to Athens, continued to Constantinople. His journal abounds with reminiscences of classical reading, and notes of missionary enterprise. After a brief stay with the missionaries at Constantinople, he went by the Black Sea to Varna, and up the Danube to Vienna, where he was joined by his son, who had for some time been pursuing his studies in Germany. The little party now fell into the coDimon routes of travel, by Trieste, Venice, Northern Italy, Switzerland, and the Ehine, and after a short residence at Bonn, to Scotland. On the 20th of July they arrived in Edinburgh, intending to spend the autumn and winter among friends in that city. Next summer they would all go to the United States, and in the end of that year return to India.
In the society of a widening circle of learned and pious people, the succeeding autumn and winter passed by, not without profit, spiritual and intellectual. Nor did the zealous missionary fail to avail himself of occasions, by public addresses and otherwise, to quicken a Christian interest in the work of sending the gospel to the heathen. About the beginning of April following, with Mrs. Owen, he went into England, and spent a few weeks at Harrow, and in the vicinity, among friends, the family of Mr. Lang, and others, with whom he had been pleasantly associlated many years before in India. With all the interest of a copious reader of English historical literature, he visited London, Windsor, Eton, and the Universities of Cambridge and Oxford, in the latter making among other highly esteemed acquaintances, that of Prof. Max Miller.
In May he was again in Edinburgh, in time to attend the sessions of the G-eneral Assemblies, before one of which, that of the Free Church, he delivered an address on the subject ever dearest to his heart.
On the evening of July 17th, he wrote, "At this quiet hour, at the close of a peaceful day during which a happv Sabbath calm has prevailed, it is difficult to realize that on the other side of the channel two powerful nations are rushing to war." Mrs. Owen had been absent for a short time in Germany. In view of the declaration of war, although her safety was in no danger, there was cause for anxiety about her being detained. She returned immediately. In recording his thanks to Grod for her safe restoration to the British side of the sea, he adds : "It is not yet a week since the declaration of war, though it seems more like a month, so many events have been crowded into this short period. The Emperor chose the Sabbath for sending his declaration of war to Berlin. On the 19th Prevost Paradol committed suicide in Washington, shooting himself through the heart. This terrible war is bringing ruin to thousands, apart from the suffering and loss of life to tens of thousands, victims of an unprincipled man." It was not then publicly known that the motives to the attack on Prussia did not originate with Napoleon, who bore for a time the reproach of provoking a disastrous conflict for a ridiculously inadequate cause.
The visit to the United States was now postponed until the hot weather should be over: and although Dr. Owen was apparently in good health, it was thought that he might lay in a supply of energy, for his contemplated future labors in India, by a residence of a few weeks in the bracing air of the Scottish Highlands. Accordingly the summer was spent in Scotland. On the 6th of September he was at Corriesyke, Lochgoilhead, with his family.
In this quiet retreat, at the head of this beautiful loch, they have been studied and thought over, and talked over, sometimes climbing the hills or boating on the loch, or walking, or sitting on its shores. The invigorating fresh air has given new life to us all."
These words were the last Dr. Owen was ever to enter in his journal. A few days later, his health began to decline ; and upon his return to Edinburgh, became gradually worse. This part of the narrative can be best
told in the words of one who watched over him with the tender solicitude of appreciating love.
Mary Jane Owen's account:
"Throughout his trying illness he exhibited a patient, unselfish spirit. He felt that his end might be near. But the thought gave no alarm, though it occasioned deep solemnity of spirit, and increased pray erf ulness. He had long walked with God, had devoted his life to His service, and was ready, his lamp lit and his loins girt, waiting for his Lord. Though ready to depart, yet he had for many days prayed for recovery, and said to me, 'I shall be thankful if Grod spares me to work a little longer in his vineyard, and to be with you. But perhaps He has done with me for this world.' At another time, when speaking of his mission work, he said, ' If I had to choose over again now, I should choose as I have done.' Again, with calm delight, he would say, as he lay with uplifted eyes, 'Absent from the body — -present with the Lord — Forever — with the Lord,' pausing on each word. 'How delightful it will be to he forever with the Lord.'
"On Saturday evening, the 3rd of December, he seemed to be very weak, and had a good deal of pain, and often, during the night, exclaimed, "Come, Lord Jesus, come quickly," and he was much in silent prayer. Still we did not think his end was so near. It was not until about eight o'clock next morning — Sabbath, the 4th December that the Doctor, on being called to see him, spoke to me the bitter words, " He cannot live through the day," and then I seemed to realize the truth. Harry came, and I took his tenderly loved babe to receive her last kiss. So all his dear ones were around him. God graciously granted that his complaint should cease to trouble him, and he gathered strength to speak to all around him ; and to send loving messages to many in America and India. We were privileged to witness from that time till 4 P. M., when his gentle spirit fled away, the power of the peace-speaking blood of Christ, the Christian's victory over Death, through Christ his risen Saviour.
13.9. Background information on LSA qualification
The Apothecaries' Act of 1815 was the first attempt to regulate the general practice of medicine by requiring those aspiring to practise to be regularly apprenticed to a recognized apothecary for a minimum of five years and then to attend lectures and a recognized hospital or dispensary. Originally, courses in Anatomy, Theory and Practice of Medicine, Pharmaceutical Chemistry, and Materia Medica were all that was required." These requirements were increased to include Physiology and Medical Botany (1816), Demonstrations in Anatomy and the Principles and Practice of Midwifery (1827), Clinical Lectures (1828), and Forensic Medicine (1836). Then, provided he was aged twenty-one or more, the apprentice obtained his licence to practise by passing an oral examination at Apothecaries' Hall in London.

All the names and addresses of those who sat this examination, together with the names and addresses of their masters and the name of the hospital they attended, were recorded and are still available for inspection.
http://www.apothecaries.org.uk/index.php?page=52
Microfilm copies exist for many of the major series of the Society's pre-20th-century records. These microfilms are on open access in the searchroom of the Manuscripts Department in Guildhall Library, Aldermanbury, London EC2P 7HH (tel: 020 7332 1863 ; email: This e-mail address is being protected from spambots. You need JavaScript enabled to view it ). The Library is open to the general public six days a week and no appointment is necessary.
Info:
http://en.wikipedia.org/wiki/List_of_historical_medical_schools_in_the_United_Kingdom
London - Most of the teaching hospitals in London were founded centuries before the University of London. Their students qualified with diplomas from the Royal College of Surgeons and/or the Worshipful Society of Apothecaries..
http://www.bium.univ-paris5.fr/histmed/asclepiades/pdf/palluault2.pdf
This publication: 'Medical students in England and France 1815-1858. A comparative study' by Florent Palluault gives some insights into the training of apothecaries and surgeons in the early 19th century:
'Unlike wealthy young men, who could afford to travel far and live in an expensive city, humble apprentices and officiat pupils had to find instruction nearby. In England, young men could easily find a position as an apprentice close to home as many apothecaries welcomed both the help and the complementary income that apprentices brought. Van Zwanenberg notes that in Suffolk, for example, 128 out of the 170 surgeon-apothecaries (75%) took apprentices between 1815 and 1858. After or towards the end of their apprenticeship, young men could pursue their studies either in one of the ten provincial towns recognised by the Society of Apothecaries and the Royal College of Surgeons, or in London. If they only sought the LSA examination, they could complete their entire instruction in the provinces. However, if they also wished to obtain the diploma of the Royal College of Surgeons (MRCS), they were required, until 1839, to attend the surgical practice of one of the large London hospitals for at least six months.'
14. Newspaper articles mentioning Dr Bell
Extract from the Ipswich Journal, and Suffolk, Norfolk, Essex, and Cambridgeshire Advertiser, Saturday, July 21, 1860.
ALDEBURGH.
SHOCKING SUICIDE. – It is our painful duty to record a shocking case of self destruction, in the person of F. Bell, Esq., the well known and much respected surgeon of Aldeburgh. The sad occurrence took place at Malvern, Worcestershire, whither the deceased had gone for the benefit of his health. We extract the following particulars from the "Malvern Journal" of Wednesday last. From the accounts given of Mr. Bell by parties residing at Malvern, who had known him for a period of twenty years, it appears that he has been very assiduous in aiding institutions having for their object the improvement of the position of the working classes, and he has latterly devoted much time and attention in lecturing and praying to these classes, and more widely spreading a knowledge of the scriptures. To this, coupled with overworking at his profession, it would seem, must be attributed the cause of the shocking and untimely end that he has, by his own hand, come to. This overtaxing of his brain had produced mental depression, and for some time past he has been unable to take any food unless it was of necessity administered to him by force by his friends. To relieve him from this state it was determined that he should come to Malvern, and he accordingly arrived here in company with a friend, Mr. Garrett, of Aldeburgh, on Monday evening, the 9th inst. He went direct to Tudor House, and placed himself under the skilful treatment of Dr. Gully and Dr. Badgley. The treatment he received was so far successful that by Wednesday an improvement was manifest, and he continued progressing favourably until the time he was last seen on Saturday night. In fact, it was so manifest that on Saturday he joined in conversation at the dinner table, and also, while watching a game of billiards, offered to act as marker for the players. He went upstairs to his apartment about half-past nine o'clock at night, and after being fomented by the bathman, thanked him in his usual meek and gentlemanly manner for his attendance upon him, and remarked that he felt sleepy, and hoped that he should have a good night's rest. The bathman then wished him good night, and left the room. At about half-past six the next morning, Shaw (the bathman) went to his room, fully expecting to find Mr. Bell comfortably in bed, instead of which, however, a scene of a most horrifying nature met his view. The articles on the dressing table were literally smothered with blood, and on the floor lay prostrate, surrounded with blood, the lifeless body of one whom he had only left eight hours previously apparently in good spirits, and progressing from the malady which affected him. He called in another bathman, but soon discovered that the patient was no more. Dr. Badgely was at once acquainted with the melancholy occurrence, and was instantly in attendance, but human aid was no longer required, as the vital spark had fled. From the position of the body when found the following morning, it is conjectured that the deceased gentleman had deliberately arisen from his bed, relit the candle that had been placed on the mantleshelf (but was found next morning on the left side of the looking glass) had taken off his night-shirt, and then had taken up his razor, and inflicted upon his throat a wound that caused almost instantaneous death. At the inquest held upon the body, the journal returned a verdict "that the deceased cut his throat while in an unsound state of mind."
Image © THE BRITISH LIBRARY BOARD. ALL RIGHTS RESERVED.
Bury and Norwich Post - Wednesday 28 August 1839
Image © THE BRITISH LIBRARY BOARD. ALL RIGHTS RESERVED.
TO THE
Nobility, Clergy, Gentry, and the Public in general.
THOMAS GOWER
Most respectfully returns his sincere thanks for the kind patronage he has received for his
NEWLY INVENTED
CONCENTRATED
PURE LEMONADE. &c.
And now begs to inform them that several eminent Physicians and Surgeons of the Town and Neighbourhood have favoured him with the following
TESTIMONIAL:-
We have used the CONCENTRATED PURE LEMONADE, prepared by Mr. THOMAS GOWER, and have no hesitation in recommending it as a valuable acquisition to the Chamber of the Invalid, as well as a refreshing and cooling beverage to those in health.
Sir L. Maclean, M.D. Sudbury
Andrew Wood Baird, M.D. Ipswich
George D. Lynn, M.D. Woodbridge
George Probart, M.D., Bury St Edmund's
W.B. Clark, M.D., Ipswich
John Bailey, M.D., Ipswich
James Owen, M.D., Ipswich
James Paterson, M.D., Downham
George Green Sampson, Surgeon, Ipswich
Alex. Henry Bartlett, Surgeon, Ipswich
C.C. Hammond, Surgeon, Ipswich
G.K. Cowell, Surgeon, Ipswich
J.O. Francis, Surgeon, Ipswich
W.T. Image, Surgeon, Bury St. Edmund's
William Welton, Surgeon, Woodbridge
T.G. Wales, Surgeon, Downham
John Roberts, Surgeon, Brandon
T. Gissing, Surgeon, Woodbridge
F. Bell, Surgeon, Aldborough
THOMAS GOWER'S
NEWLY INVENTED
CONCENTRATED PURE LEMONADE,
Made in the short space of One Minute.
Put a Table Spoonful of the Concentrated Lemonade to a tumbler of cold water, or mix to the palate, stirring it up well from the bottom of the glass, and it will, on account of the purifying process which the Lemon Juice and Sugar undergoes, become as colourless as water, and will be found a cool, wholesome, and delicious beverage, either in the ball-room, parlour, or in the chamber of the Invalid, to whom it is particularly recommended. Sold wholesale for Ready Money, at T. GOWER's La Veritable Curaçao and Concentrated Punch Manufactory, Trafalgar Buildings, Shire Hall Yard, Ipswich, Suffolk.
Retail Price – In Bottles., 2s 6d and in Wine Bottles 5s each. Bottles and hampers to be charged and allowed for when returned.
To be had of all Chemists, Confectioners, &c.
The SUFFOLK CHRONICLE; Or, Ipswich General Advertiser, and County Express.
No. 1919
Saturday, January 30, 1847.
To the Editor of the Suffolk Chronicle.
SIR. – Allow me, through the medium of your Chronicle, to make known to the public, that the newly-discovered agent for mitigating the pain of surgical operations, was successfully employed by Mr. Bell, surgeon of Aldeburgh, on Saturday last. I was present at, and assisted him in the operation.
A young woman, 23 years of age, having many years suffered from a scrofulous disease of the knee joint, had the limb amputated while under the influence of the inhalation of sulphuric ether, and was quite unconscious of pain.
To alleviate pain during a severe operation, to which suffering humanity is often compelled by dire necessity to submit, is always the study of the surgeon; and a discovery like the present, is a subject of such intense public as well as professional interest, that every surgeon who tries this potent agent ought to give publicity to the result, that confidence may be given to those suffering under disease, and also a scientific truth disseminated amongst the profession.
I am, Mr Editor
Your obedient servant,
Henry L. Freeman, MRCS.
Saxmundham, 28th Jan 1847
Image © THE BRITISH LIBRARY BOARD. ALL RIGHTS RESERVED.
The Ipswich Journal - Saturday 07 June 1851
Desirable House Property,
In the
Bathing Town & Port of Aldeburgh,
AND COTTAGES,
In Knoddishall & Leiston, Suffolk.
To be SOLD by AUCTION,
By Mr. S. FLICK,
At the Cross Inn, Aldeburgh, on Monday, the 23rd day of June instant, at Four o'clock in the afternoon,
IN TEN LOTS
…Lot 4. Comprises a new brick and tile sash fronted MESSUAGE, very pleasantly situated at the entrance of the town, comprising entrance hall, two parlours, surgery, good kitchen, store-rooms, wash-house, and three sleeping-rooms, three-stalled stable, and other outbuildings, now in the occupation of F. Bell, Esq., Surgeon.
The Ipswich Journal - Saturday 31 December 1842
ALDEBURGH – On the 26th inst., a dinner was provided at the Lion Hotel, for the benefit of Mrs. Nunn, the respectable proprietor of that establishment, for some years ably conducted by her late husband. There were about 100 gentlemen and tradesmen present. The chair was occupied by the Hon. Arthur Thelluson, Vice-chairman Mr. Newson Garrett. Amongst the company were John Kendall, Esq. John Underwood, Esq., Collector of Customs; H. Southwell, John Symons, Fredk. Bell, Esqrs, Lieut. Hill, R.N., R. Mayhew, Esq., Messrs. Richd. Garrett, John Cooper, Jas. Osborne, Wm. Last, Thomas Wainwright, G.M. Tyrrell, W. Garrard, &c., &c. The company were much gratified by the excellent arrangements and the plentiful supply of all that was needful to render the dinner comfortable and respectable. Appropriate toasts were proposed by the Hon. Chairman and Vice-president and speeches delivered by several others in the company, who separated much pleased with the evening's entertainment. Mr. Newson Garrett also kindly entertained, with an excellent dinner, about 25 of his sailors at the same hotel.
The Ipswich Journal - Saturday 05 August 1848
(Advertisement)
THIRD SEPENNIAL
CROWN
LIFE ASSURANCE COMPANY
33, New Bridge Street, Blackfriars, London
DIRECTORS
GEORGE H. HOOPER, Esq., Chairman
Sir JOHN KIRKLAND, Deputy Chairman.
Aldeburgh …. Agent: Mr. James Osborne Medical Officer: F. Bell, Esq.
The Suffolk Chronicle; or Weekly General Advertiser & County Express. - Saturday 24 November 1849
ALDEBURGH, Nov. 23
The Corporation of this Borough on Saturday elected nine Burgesses to fill the vacancies of Councilmen, viz. the Rev. – James, Messrs. N. Garrett, W. Garrard, J. Beart, J. Neeve, - Easter, F. Bell, and R. Gorham.
Image © THE BRITISH LIBRARY BOARD. ALL RIGHTS RESERVED.
The Suffolk Chronicle; or Weekly General Advertiser & County Express. - Saturday 18 April 1846
ALDEBURGH, April 17
On Tuesday last, the gentlemen, merchants, and tradesmen, of this town, met at the Church to transact the usual business of the parish, when a vote of thanks was unanimously presented to the Hon. Arthur Thellusson, for the faithful, kind, and efficient manner in which he (in conjunction with Mr. Jas. Osborne, sen.) had discharged the duties of Churchwarden during the past year; in addition to which, the meeting had to tender their gratitude for the very handsome present of the above Hon. Gentleman, of a large and valuable silver plate for the communion service at Aldeburgh Church. John Barker, Esq., and Mr. James Todd were unanimously chosen Churchwardens for the ensuing year. After the business was transacted, the company adjourned to the White Lion Hotel, where an excellent dinner was provided by Mrs. Nunn, the proprietor, who is always anxious to please, and who is well qualified to provide for such occasions. The Hon. A. Thellusson presided, and the Rev. H.T. Dowler, the worthy Vicar, John Barker and F. Bell, Esqrs., surgeons, Messrs. Newson Garrett, Jas. Neeve, Jas. Osborne, Wm. Garrard, and many others of the town participated in the pleasures of the evening, in the course of which many observations were made relative to the improvements recently made in this enchanting and justly-celebrated watering place. The opening of the new rail-road from Ipswich to London, which it is hoped will soon be completed, doubtless will induce many families to visit us from the metropolis during the summer season. Any information in reference to lodging-houses may be obtained, free of charge, from Mr. Lincoln, at the Aldborough Library, who will feel much pleasure in procuring houses for any person or family who require accommodations. Several improvements are now in progress, and the beautiful promenade is in order again, after the clearing away of the pebbles which were thrown over it during a very high tide in the winter.
The Suffolk Chronicle; or Weekly General Advertiser & County Express. - Saturday 24 April 1858
Image © THE BRITISH LIBRARY BOARD. ALL RIGHTS RESERVED
REPRESENTATIVE MEN OF AMERICA
A lecture was delivered at the Reading Room, Aldborough, on Friday evening, April 16th, on the above subject, by the Rev. Edward Mathews, of the United States. The chair was takan by F. Bell, Esq., surgeon, who introduced the lecturer in an able speech. The Americans were the offspring of England; there were elements of weakness and strength in their national character; and their influence on the future of other nations would, undoubtedly, be very great; and while it was the duty, it was also the interest of Englishmen to become fully informed respecting them. Mr. Mathews, who had resided many years in America, was prepared to furnish information on the subject, which would, he had no doubt, be received with gratification by the audience.
[speech about slavery and the political setup in the USA]
A vote of thanks was accorded to the lecturer and to the chairman for his kindness in presiding, and the meeting separated.
Framlingham Weekly News - Saturday 10 November 1860
Image © THE BRITISH LIBRARY BOARD. ALL RIGHTS RESERVED.
ALDEBURGH
The sale of the effects of F. Bell, Esq., surgeon, took place on the 30th ult. The same evening the Practice was offered for competition at the White Lion Hotel and was purchased by Theodore Grant Cresy, Esq., who comes to Aldeburgh, we understand, with testimonials of the highest character.
Framlingham Weekly News - Saturday 21 July 1860
Image © THE BRITISH LIBRARY BOARD. ALL RIGHTS RESERVED.
ALDEBURGH
We have to lament the death of F. Bell, esq., for many years surgeon at the above place, who died very suddenly at Malvern, in Worcestershire.
The Ipswich Journal - Saturday 04 August 1860
Image © THE BRITISH LIBRARY BOARD. ALL RIGHTS RESERVED.
ODD FELLOWS. – N.F. Kell, Esq. surgeon, has been appointed surgeon to the M.U.I.O. of Odd Fellows, to fill the vacancy occasioned by the death of F. Bell, Esq.
The Ipswich Journal - Saturday 31 December 1859
Image © THE BRITISH LIBRARY BOARD. ALL RIGHTS RESERVED.
ALDEBURGH PETTY SESSIONS.
WEDNESDAY. – Before the Rev. H.T. Dowler, chairman: Newson Garrett and F. Bell, Esqrs.
Serious charge against a Naval Officer. – Captain J. E. Risk, R.N. commanding officer of the Coastguard of this district, was charged with assaulting George Cable, one of the crew of the Lifeboat, on the occasion of the late fatal disaster.
Bury and Norwich Post - Tuesday 18 October 1870
Image © THE BRITISH LIBRARY BOARD. ALL RIGHTS RESERVED.
On the 16th inst, at Aldeburgh, CHARLOTTE, sister of the late FREDK. BELL Esq., surgeon.
Norfolk Chronicle - Saturday 22 October 1831
Image © THE BRITISH LIBRARY BOARD. ALL RIGHTS RESERVED
MARRIED
Thursday last, at Griston, by the Rev. Walter Chenery, Mr. Wm. Bell, of Walpole, son of the late Mr. William Bell, surgeon, of Terrington St. John's, near Lynn, to Mary, third daughter of Mr. Land, of the former place.
[NOTE: Walpole is near Halesworth, in Suffolk, not too far from Aldeburgh]
Norfolk Chronicle - Saturday 12 May 1821
Image © THE BRITISH LIBRARY BOARD. ALL RIGHTS RESERVED.
Sunday last, aged 76, the Rev. Jospeh Berney, of Stalham, in this county. ¬– Same day, after an illness of several years, borne with pious resignation, in the 27th year of her age, Mary, the eldest daughter of Mr. Wm. Bell, Surgeon, of Terrington St. John's. She was justly beloved by her family and friends.
Norfolk Chronicle - Saturday 19 March 1791
Image © THE BRITISH LIBRARY BOARD. ALL RIGHTS RESERVED
Last week was married, Mr. William Bell of Terrington St. John, surgeon, to Miss Coates, of Tilney.
Last Updated (Tuesday, 06 March 2018 14:48)